Saba ACE Review – Is It Safe and Effective?
Medically reviewed by a Team of Nutrition Professionals
Can Saba ACE bring noticeable results in a few weeks? Our detailed review gives you all the Facts & Truth about Saba ACE.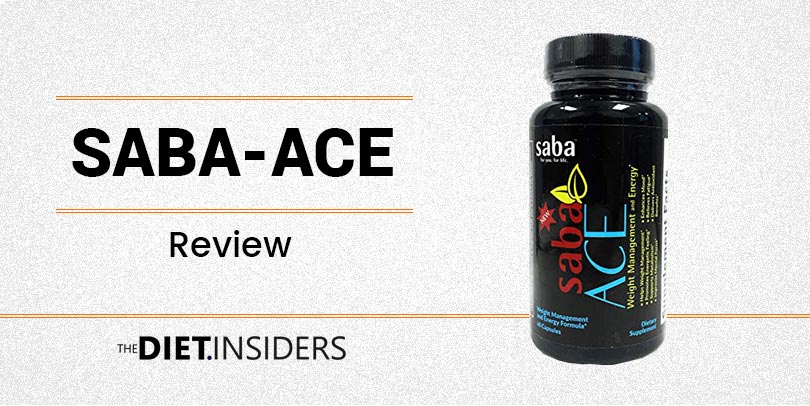 What is Saba ACE?
Saba ACE is a dietary supplement that tries to combine accelerating weight loss and delivering positive effects on your overall health.
The product mixes ingredients derived from plants and adds minerals and vitamins in the effort to achieve these goals.
As a result, we have capsules called Saba ACE, with the last three letters meaning appetite, control, and energy.
The manufacturer of the supplement is AMS Health Sciences LLC, a company that is based in Oklahoma.
Saba ACE is not the only product they make since the Saba brand also has other supplements, such as Skinny 5000 and Trim Pro.
In fact, the company manufactures supplements of various sorts and purposes, including immunity and stress relief and body care products.
Saba ACE Ingredients and Why it Matters?
The formula combines vitamins and minerals with a proprietary blend of herbal-based compounds. If you would like to take a closer look, here is a complete list of ingredients:
Caffeine Anhydrous – The purest form of caffeine and a natural stimulant that can boost metabolism, raise energy, and increase focus
Green Tea extract – According to American Journal Of Clinical Nutrition it has antioxidant properties, it can help you to lose weight by promoting thermogenesis
African Wild Mango – West African tree extract that can act as a fat burner and decrease waist size
Rhodiola Rosea – The extract can relieve stress and it has antioxidant properties that boost immunity
White Kidney Bean Extract – Some studies suggest that this compound acts as a starch blocker which is useful in the losing weight process.
Other active ingredients area thiamin (vitamin B1), riboflavin (vitamin B2), niacin (vitamin B3), pantothenic acid (vitamin B5), pyridoxine (vitamin B6), folic acid (vitamin B9), vitamin B12, and chromium. Magnesium stearate and gelatin were also used in the process of making capsules.

Saba ACE Review – Does it Really Work?
The manufacturer emphasizes that they included so-called "body-loving" compounds in the formula. By that, they mean herbal extracts, minerals, vitamins, and antioxidants, but the product also includes caffeine anhydrous that acts as a stimulant.
In your effort to lose weight, it's that ingredient that probably plays the key role in the working process of Saba ACE. The supplement stimulates your body to lose weight through the process of thermogenesis.
Thanks to the mixture of helpful ingredients, the manufacturer claim that the product can also increase your energy, while at the same time reducing fatigue. You might also experience increased clarity and mental focus and benefit from the antioxidant properties of the product.
The list doesn't end there because the working process may also involve suppressing your appetite. Finally, Saba ACE might also improve your mood and help you to get rid of stress and anxiety.
Similar Products
What are the Benefits of Saba ACE?
Might improve your mental focus
Contains more than 12 vitamins, minerals, and herbal-based ingredients
Only requires taking one pill per day
What are the Drawbacks of Saba ACE?
It is not suitable for people with underlying medical condition
If you do not take it in the morning, it can lead to sleeplessness
SEE ALSO – Proactol XS and Skinny Magic

FAQ's
Q: How Much Does Saba ACE Cost?
A: A month supply of Saba ACE has the price of $70. That is how much you will pay for one bottle at the official website.
Q: How Should You Take Saba ACE?
A: You should take one pill per day and, although it is up to you when it is advisable to do it in the morning right before breakfast. Saba ACE contains natural stimulants which may cause sleeplessness if taken too close to bedtime. Make sure to take enough water during the day – the manufacturer suggests eight full glasses and one of them with the capsule.
Q: Who Should Avoid Taking This Product?
A: Standard rules apply to Saba ACE meaning that this product was designed for adults that have no issues with health. However, you should also not forget the fact that the product contains stimulants, including caffeine and green tea extract.
Due to their thermogenic properties, it is advisable to consult with your healthcare provider before you start taking the capsules.
Q: Should You Buy Saba ACE?
A: This question depends on your stance towards stimulants and whether you want them in your desired weight loss supplement or not. There is no doubt that the inclusion of ingredients such as caffeine may boost the process of losing weight, but it can also have side effects that may harm your health.
If you believe that you have strong health that can handle using natural stimulants or you already know that you are (fairly) tolerant of coffee, you can give Saba ACE a try.
YOU MAY ALSO LIKE – Slenderiix & Xceler8 and Phentabz
Saba ACE Review – The Bottom Line
It is always nice to see that a weight loss supplement contains more than a dozen different ingredients.
The manufacturer of Saba ACE did ensure to include a combo of useful compounds that can boost your energy and metabolism and help you to lose weight.
However, the fact that the supplement contains stimulants, although natural, is something that not all users will like. For some, the risk of jitters and headaches might be too high to give the product a shot.
If you do decide to test Saba ACE, keep in mind that you may shed some pounds, but it will come at a high cost compared to some other similar products.
Saba ACE can be purchased through their Official Site.
Pros
It may accelerate weight loss process
It can help you feel more energized
Cons
This product is high at cost
It contains stimulants, although they are plant-based
The Diet Insiders Staff
The Diet Insiders Staff
Our team is dedicated to giving you the most trustworthy, unbiased, and accurate information. The Diet Insiders articles are based on scientific evidence and written/reviewed by our team of licensed nutritionists and dietitians.