Optimal Weight 5&1 Review – The Truth & Facts You Need to Know
Medically reviewed by a Team of Nutrition Professionals
Here's what you need to know about Optimal weight 5&1 plan. If you want to lose weight, then you need to take a look at our reviews now.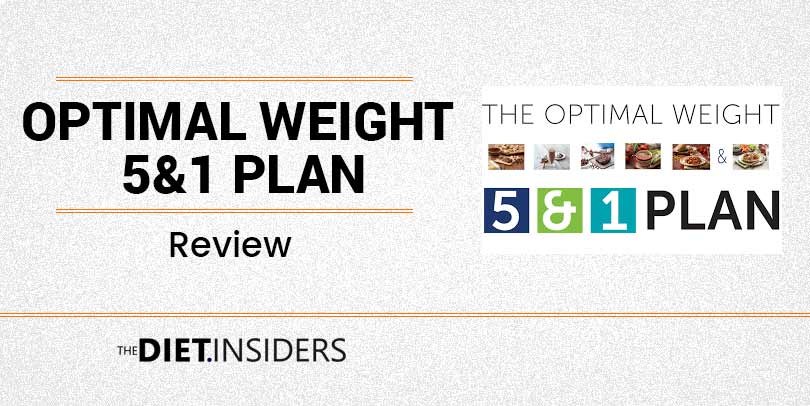 What is the Optimal Weight 5&1 Plan?
This program features a specially designed plan, which is supposed to help you lose weight but add muscle mass.
It involves different products that will help you meet the goals you are setting for yourself.
Keep reading for more information on Optimal Weight 5&1 Plan and how it works.
With this plan, you are able to eat 6 small meals a day, but you need to purchase a kit to participate in this dietary program. These kits contain "fuelings" which are foods you'll eat five times per day.
You can expect snack bars, soups, cereals, smoothies, and more in your kit. One of your meals will be a "lean and green" meal that you create yourself.
Who produces Optimal Weight 5&1 Plan?
Optavia, formerly known as Take Shape for Life, is the name of the company that makes the Optimal Weight 5&1 Plan. Medifast owns this company. They make other products that are designed to help you lose weight also.
Optimal Weight 5&1 Plan Benefits
There may be a few benefits associated with the use of this program. Because this program is so low in calories, you should lose weight relatively quickly.
Also, you can eat frequently, with 5 Fuelings a day. Fueling is the name given to the small meals that work with the plan.
You are even able to choose from over 60 Fuelings to keep you feeling full all through the day.
Information Behind Optimal Weight 5&1 Plan
A big tenet of this plan is that it helps you with portion control, which is considered to be supportive in helping adults lose weight.
The meals and snacks that are available with this program are supposed to be well balanced and include fat, proteins, and carbs.
How to Get Started with Optimal Weight 5&1 Plan?
If you are interested in starting with this weight loss plan, you will need to pick a kit.
There are a few to choose from. With this kit, you will have all of the fuelings you will need for around a month.
They each come with instructions and information to check out to keep up with the program.
Is the Optimal Weight 5&1 Plan Healthy?
According to Optavia, the products are nutrient-dense and contain things that your body needs.
This means you won't be missing out when you eat the desserts, breakfasts, and other things.
If you end up liking one item more than others, you can even opt to order extra of a certain thing.
Are the Optimal Weight 5&1 Fuelings Ingredients Effective For Losing Weight?
Fiber
Fuelings have fiber, which is something that is quite important when it comes to staying healthy and losing weight.

It is found in whole grains, as well as fruits and vegetables. Whole Grains are studied as something that can help to reduce the risk heart disease.

Protein
Another thing they contain is protein. This is what can help you stay full support healthy muscles. It is often found in meats and beans. A 2015 article in the American Journal of Clinical Nutrition reviewed the role of protein in the diet and found that higher-protein diets may aid in healthy weight management.
Vitamins and Minerals
There are essential vitamins and minerals in the foods found in the kit as well. These are substances you need for your body to keep running, as it should.
Similar Products
Optavia Side Effects
Anytime you change up your diet in a big way, there may be some minor effects that you will experience. If you experience any adverse effects after making major changes to your dietary pattern, you should consult with your physician.
Optimal Weight 5&1 Plan Cost
Depending on the kit that you choose, the price may be different. The kits for the Optimal Weight 5&1 Plan range from about $400-450. You can check the prices and see what is included in the program on their website.
Optimal Weight 5&1 Results
If you want to know if you will really see results with this program, it depends on your body, and how closely you follow the program. It can take up to 3 months to see a big difference, so hang in there if you want to make a change for your health.
FAQ's
Do I need to exercise while using the Optimal Weight 5&1 Plan?
To increase the effectiveness of the program, it is a good idea to incorporate some physical activity if possible.
How many different Optavia Fuelings are available with Optimal Weight 5&1 Plan?
There are more than 60 Fuelings available.
How many meals are there each day?
The program is called 5&1, which means 5 Fuelings and 1 Lean and Green Meal a day. You can even have a snack if you want.
Do I need to drink water?
It is recommended that you drink at least 8 cups of water a day.
Will Optavia Fuelings burn fat?
Optavia claims that the fuelings are designed to help you lose fat and retain lean mass.
Where can I purchase Optimal Weight 5&1 Plan?
You can purchase Optimal Weight products from their website.
Should I use Optimal Weight 5&1 Plan?
The Academy of Nutrition and Dietetics recommendation for weight loss for men is 1500-1800 calories per day and for women, it is 1200-1500 calories per day.
The Optimal Weight 5&1 Plan puts individuals below these levels and should not be undertaken without close medical supervision.
You should make sure that you check with a doctor before starting the program and Optavia advises this as well.
Should I use Optimal Weight 5&1 Plan if I am not trying to lose weight?
The Optimal Weight 5&1 Plan is not appropriate for individuals who are not trying to lose weight.
How many carbs or calories can I have each day?
There is a little bit of difference, depending on what foods you eat, but generally speaking, you can have between 80-100 grams of carbohydrates and between 800-1000 calories each day.
Are there gluten-free foods available?
Yes, there are gluten-free options that you can take advantage of when you are following this diet.
Final Word
This is a program that is unlike some other programs because you don't have to think much about what you are going to eat.
As a bonus, you get to eat every few hours. If this is something that sounds good to you, you must consult with your physician before initiating this dietary program.
The calorie levels in this program are too low to be recommended to individuals who do not have medical supervision.
Pros
Lose weight fast
Burn off fat
Packaged products offer convenience
Cons
Monthly cost is high
Involves a lot of processed food
Calorie restriction may leave you hungry
The Diet Insiders Staff
The Diet Insiders Staff
Our team is dedicated to giving you the most trustworthy, unbiased, and accurate information. The Diet Insiders articles are based on scientific evidence and written/reviewed by our team of licensed nutritionists and dietitians.