FenFast 375 Review – Is It Safe and Does It Have Any Side Effects?
Medically reviewed by a Team of Nutrition Professionals
Does FenFast 375 really help people to burn extra fat? Read FenFast 375 reviews to learn everything you should know about its ingredients, pros, cons and more.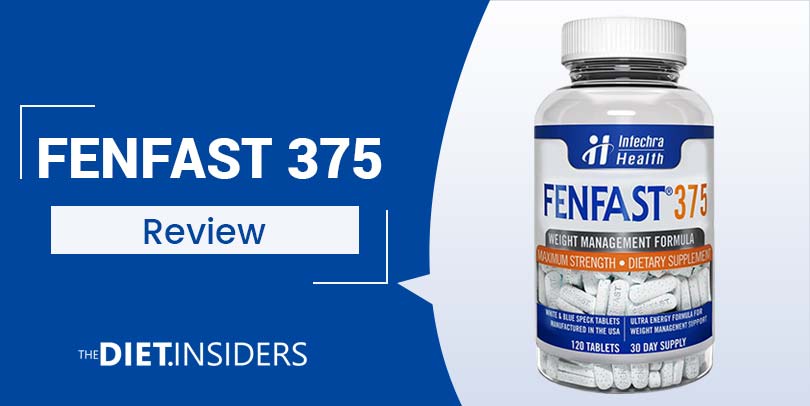 What is FenFast 375?
FenFast 375 is a diet pill that promises to offer a better weight loss alternative to top-rated prescription diet pills such as Adipex and Phentermine 37.5.
According to the producer, this formulation is developed from purely lab-researched ingredients that if combined with physical activity, can help users experience a dramatic reduction of body weight, while at the same time help maintain a healthy lifestyle.
It supposedly helps the body to burn fat and calories even when the user is at rest, supports energy levels and eliminates the feeling of constant hunger that often accompanies dieting.

FenFast 375 Ingredients and Why it Matters?
According to the producer, FenFast 375 is a product that was developed through years of research and causes none of the side effects that sometimes occur with other weight loss supplements.
The key ingredients are contained in a proprietary blend and include:
L-Phenylalanine – In this particular formula, findings associate this ingredient with impacting weight loss through suppressing appetite[1], and increasing energy levels to support physical activity.
Hordenine HCL – Also a well-known ingredient in the weight loss industry[2]. It is a plant-derived alkaloid and said to enhance energy levels and support mood improvement.
L-Theanine – Shown to help manage stress and anxiety[3] which may be an obstacle to sustained weight loss. It may also help those experiencing food addictions.
Caffeine – A strong stimulant that is said to possess an ability to help activate and maintain consistency in the metabolic rate.
Similar Products
FenFast 375 Review – Does it Really Work?
The precise approach that FenFast 375 takes to deliver its promise is through triggering thermogenesis. This is a state where the body is activated to generate heat continuously which consequently leads to more effective fat burning.
In that state of thermogenesis, the body is said to produce more energy than usual and when that combines with this product's ability to suppress appetite, users are likely to see accelerated results in their weight loss goals.
Additionally, this product may help dieters adhere to their weight loss program by reducing the appetite and food cravings.

What are the Pros of FenFast 375?
The formula has been thoroughly researched and is said to be safe and effective
It is said to have a low potential for causing unpleasant side effects
What are the Cons of FenFast 375?
The formula is a proprietary blend so individual ingredient amounts are not disclosed
A small section of users complained of getting a jittery feeling and mouth dryness with this pill
SEE ALSO – Rapid Tone and Panalean

FAQ's
How Much Does FenFast 375 Cost?
A one-month supply costs $49.00
a two-month supply is $89.00
a three-month supply is $129.00
the six-month supply costs $239.00.
The latter two packages include free shipping and a bonus bottle of the product.
How Should You Take FenFast 375?
The precise dosage for FenFast 375 is 2 capsules per day, taken 30 minutes before a meal.
Who Should Avoid Taking this Product?
There are several warnings on the product label regarding the use of this product. Anyone currently taking certain medications or who suffers from specific health conditions listed on the label should consult a physician before taking the product.
WARNING – Additionally, it should not be used by people under 18 and women who are trying to get pregnant, are already pregnant or breastfeeding.
Should You Buy FenFast 375?
If you are after a better, safer alternative to top-rated diet pills like Adipex, then this may be a good choice.
The manufacturer points out that it provides benefits without causing the side effects that can sometimes accompany other weight loss products. However, as noted above, there is a long list of warnings about people who shouldn't use the supplement, so it is imperative that consumers check the information on the website before ordering it.

FenFast 375 Review – The Bottom Line
FenFast 375 certainly contains key ingredients that are linked to having benefits for weight loss, especially when used in conjunction with a healthy, low-calorie diet and exercise plan.
In addition to this, it addresses several issues that can affect dieters such as stress, low energy, and overeating.
The website for this product contains a reasonable amount of information that allows consumers to learn all about its potential benefits and ingredients.
It also includes several user testimonials, before and after customer photos, 24-hour customer service contact details and a weight loss-related health blog.
Even though FenFast 375 appears to be an effective and safe weight loss pill, it is important for consumers to look at all other options on the market before making a final decision on which one is best to serve their needs.
READ NEXT – Leanbean and Biotrust Leptiburn
Pros
Said to boost weight loss through stimulating thermogenesis
It supports the body's mechanisms of fighting low mood, stress, and anxiety when dieting
Cons
It may not give consistent results to everybody who uses it
It is only available to purchase online
The Diet Insiders Staff
The Diet Insiders Staff
Our team is dedicated to giving you the most trustworthy, unbiased, and accurate information. The Diet Insiders articles are based on scientific evidence and written/reviewed by our team of licensed nutritionists and dietitians.