Acxion Review – Get the Facts & Truth About Acxion
Medically reviewed by a Team of Nutrition Professionals
In our review, we dug deeper and found that Acxion is a prescription pill for weight loss and usually prescribed to overweight patients.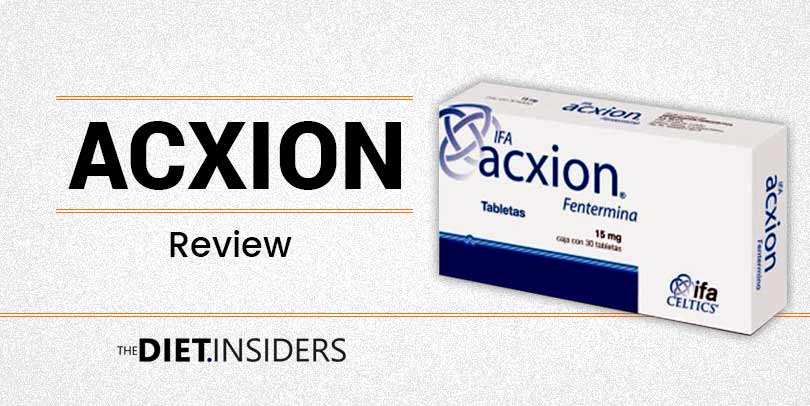 What is Acxion?
Acxion is a weight-loss supplement that you can only get with a prescription. The drug focuses on suppressing the appetite, so the user doesn't overeat or over-snack. It contains the primary ingredient Phentermine.
This drug is generally prescribed by doctors to people who fall into the category of obesity. The manufacturer says that in order for the pills to work properly, you have to follow a healthy diet and exercise regularly.
Who manufactures Acxion?
This product is manufactured by a German company called Chemische Fabrik Berg, which was established in 1953. They are a pharmaceutical company that sells its products in Mexico. They develop drugs to treat a number of different health conditions.
What are the ingredients in Acxion?
The active ingredient in Acxion is Phentermine hydrochloride. The National Institutes of Health call this a sympathomimetic amine and anorectic agent.
This medication works on the central nervous system and is a chemical stimulant like an amphetamine. Its primary weight-loss mechanism is to suppress the user's appetite to prevent them from eating too much.
Physicians tend to give this drug to obese patients who haven't been able to remove the extra weight through diet and exercise, according to the Mayo Clinic.
It's a powerful ingredient, and drugs that include it can only be received through a doctor's prescription.
How does it work?
Phentermine hydrochloride stimulates the neurons in the brain, which leads to the release of key neurotransmitters.
They activate the central nervous system, and one of the effects this may lead to is to suppress your appetite, so you don't overeat and gain weight.
With this powerful appetite suppressant, many users will lose weight. Research in JAMA showed that short-term use of the drug is linked to weight loss, although long-term effects on cardiovascular outcomes with this drug are unknown.

Similar Products
What are the benefits of Acxion?
This product may help you lose weight.
Acxion can suppress your hunger.
It may give you more energy.
What are the drawbacks of Acxion?
There are potential side effects like headache, diarrhea, insomnia, and blurry vision.
Drinking alcohol can intensify the side effects and should not be used while taking this drug.
The long-term effects of cardiovascular outcomes with the use of this drug are unknown.
Are there any side effects?
An article in Yonsei Medical Journal lists some common mild side effects of phentermine, such as dizziness, mild headache, diarrhea, and insomnia.
There are also some potentially more serious side effects such as confusion, severe headache, shortness of breath, blurry vision, and stomach issues.
FAQ's
Q: What is the dosage?
A: The recommended dosage is between 15-37mg every morning, either before breakfast or 1 or 2 hours after you eat breakfast. Since each pill contains 15 mg or 30 mg, your physician may prescribe 1 or 2 pills each day.
CAUTION: Do not take more than the recommended dosage.
Q: What do the product reviews say?
A: There aren't many reviews of this product online. The ones that do exist are quite mixed. Some users liked the product and found that it helped them to lose weight. Others found Acxion to be completely ineffective.
Q: Are there any contraindications with other drugs?
A: Limit caffeine intake (including chocolate and chocolate-based products), as they can cause interactions with this product. Do not drink alcohol while using this product.
Naturally, anyone with an allergy to one of the ingredients should avoid this product. In addition, anyone who is sensitive to stimulants should avoid this product.
Q: Where can you buy this product?
A: The product is sold in Mexico. It's not legal to sell Acxion online, although there are some sites that do. In the United States, you need a prescription from a doctor to buy the product.
Q: How much does it cost?
A: It varies, but generally speaking, a bottle is priced at about $30-50.
Conclusion
There aren't a lot of reviews of this product online, but some do exist. The customers are fairly divided on this product. Some found it very helpful to their weight-loss journey.
They lost weight and inches. Other users complained that the product did nothing for them and that they experienced adverse effects with use.
Note that it is recommended that while taking this product, you do have to follow a healthy diet and do exercise a few times a week. If you don't, it has much less chance of working.
Note that there are some mild and also some potentially serious side effects to this medication, such as blurry vision, shortness of breath, and digestive issues.
If you do experience these, stop taking the product and consult with your doctor immediately.
Pros
Helps Suppress appetite
Make you feel energized
Cons
May cause severe headache
Some user might experience shortness of breath
The Diet Insiders Staff
The Diet Insiders Staff
Our team is dedicated to giving you the most trustworthy, unbiased, and accurate information. The Diet Insiders articles are based on scientific evidence and written/reviewed by our team of licensed nutritionists and dietitians.