Advocare Spark Review – Does Advocare Spark Make You Lose Weight?
Medically reviewed by Lauren Armstrong, RD
Are you looking for a natural diet supplement? Considering Advocare Spark? Read our review to see if it actually works and how it compares.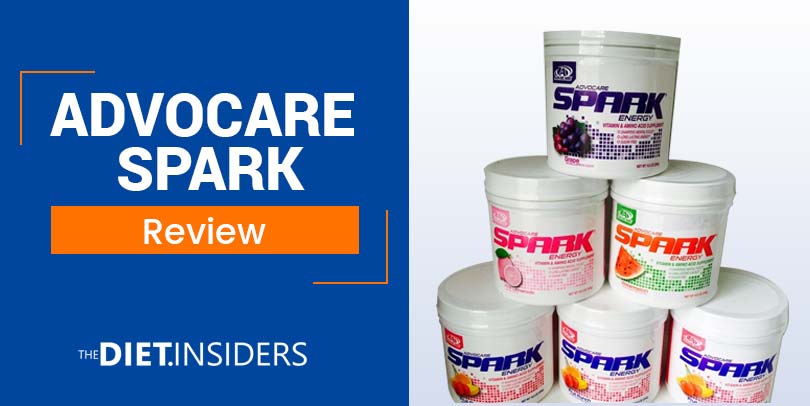 What is Advocare Spark?
Advocare Spark is an energy drink that contains no sugar, and provides you with extra fuel and enhances your concentration and alertness. Advocare Spark combines rich vitamins, minerals, and nutrients in a healthy blend. It is available in 6 different sweet and fruity flavors.
Who manufactures Advocare Spark?
A company called AdvoCare, founded in 1993 in Texas, manufactures Advocare Spark. This is a company which produces dietary supplement for health and wellness.
It was also considered a multi-level marketing company (also known as a pyramid scheme) until 2019 when it became a direct-sales organization. [2]
What are the ingredients in Advocare Spark?
There are several active ingredients in this product, which serve to give you a lot of extra energy. Some of the primary components include:
Some of the primary ingredients include:
Caffeine – Contained within one of the world's most popular drinks – coffee. It gives you a lot of extra energy, which can allow you to be more active. It also speeds up the metabolism, which can cause your body to start burning fat. A study in the European Journal of Clinical Nutrition found that ingestion of caffeine can speed up weight loss.
Zinc – This is an important mineral that is essential for the human body. Our bodies don't store this mineral; therefore, it needs to be consumed from food or a supplement. [4]. The Journal of Research in Medical Sciences explores the role of zinc for human health.
Choline – This is the precursor to acetylcholine, which is a neurotransmitter that plays an important role in learning and memory. According to Examine,choline is also beneficial for liver health. You can get choline from egg yolks.
How does it work?
Advocare Spark is an energy-boosting drink. It contains caffeine, which increases your energy level. It also speeds up your metabolism and may contribute the weight loss as well. Research in the European Journal of Clinical Nutrition confirmed the connection between caffeine and weight loss.
Also, this product is very rich in many vitamins and minerals. Deficiencies in these can affect how tired you feel, so resolving these deficiencies can increase your energy level.
What is the dosage?
The recommended dosage is one scoop of the product in an 8-ounce glass of water. Then shake or stir it thoroughly before you drink it. Don't take more than the recommended dosage under any circumstances.
Similar Products
Are there any side effects?
Some people are sensitive to caffeine and may become nervous and jittery. It may also cause you difficulty sleeping if you take it too late in the day. Some people are also sensitive to choline. If you consume it in too high an amount, it could lead to side effects like sweating, a fishy body odor, gastrointestinal distress, diarrhea, and vomiting.[3].
What are the best things about this product?
This product can give you a lot of extra energy.
Advocare Spark is very rich in vitamins, minerals, and nutrients.
It increases your attention span and alertness.
It comes in several fruity flavor options.
What do the product reviews say?
Most of the reviews for this product were very positive. Customers were delighted with the results they got from using Advocare Spark. Users especially mentioned how much energy it gave them.
Users who had complaints voiced that the product arrived unsealed, they didn't order from the official website. Others said the product tasted different than usual. Be warned that there are imitation brands of this product on the market. It may be best to purchase directly from the manufacturer.
RELATED – Lady Boss Lean and 310 Shake
FAQs
Does the product contain caffeine?
Yes, this product does contain caffeine. Caffeine will give you extra energy, and it's also known to be good for brain health.
However, the caffeine may make you nervous or jittery, and if you take it too late in the day, it could disrupt your sleep.
Where can you buy this product?
You can purchase this product on the manufacturer's official website. It's also available from their independent distributors, and other third party websites.
How much does it cost?
The prices vary depending on whether you're a preferred customer or not. Regular customers are charged as follows:
AdvoCare Spark Stick Packs – $24.99
AdvoCare Spark Raspberry Lemonade or Cranberry Apple – $29.95
AdvoCare Spark Canister – $54.99
If you're a 'preferred customer' the prices are as follows:
AdvoCare Spark Stick Packs – $19.99
AdvoCare Spark Canister – $43.99
Advocare Raspberry Lemonade – $23.96
What's the return policy?
The manufacturer is offering a 30-day return policy. If you're dissatisfied with the product for any reason, contact the company and return the remainder to them within 30 days of the original purchase date.
You can get either a refund or an exchange.
Does Advocare Spark work?
Customers have been delighted with this product. Over 80% of users remarked how happy they were with Advocare Spark, and particularly how much energy it gave them.
Therefore it's safe to conclude that most of the time, it does work.
Is there a free trial?
No, the manufacturer isn't offering a free trial for this product, and there are no free samples on offer. If you want to try Advocare Spark, you can purchase it on the manufacturer's official website.
READ NEXT – Xyngular and Tavala Trim
Conclusion
On the whole, this is a popular product amongst customers. Over 80% of the customer reports were very positive. Users mentioned having an abundance of extra energy.
There were a few negative reports, but almost all of them related to people receiving either a different product or an unsealed product on a third-party website.
There were no reviewers who mentioned having any side effects. If you do experience any uncomfortable effects, stop using the product.
Before you use this product, do show it to your doctor and make sure it's medically suitable for you and doesn't contain anything that could harm you.
Pros
It contains vitamins and minerals for well-functioning body
It is a energy drink without containing sugar
Cons
Some user don't like the taste
It may leads to nervousness and gastrointestinal distress
The Diet Insiders Staff
The Diet Insiders Staff
Our team is dedicated to giving you the most trustworthy, unbiased, and accurate information. The Diet Insiders articles are based on scientific evidence and written/reviewed by our team of licensed nutritionists and dietitians.
Lauren Armstrong, RD
Lauren is a Registered Dietitian (RD) in Michigan. She has several years of experience in various fields of nutrition.