Plexus Slim Review – Learn The Truth About Plexus Slim
Medically reviewed by a Team of Nutrition Professionals
Our detailed review gives you all the facts & truth about Plexus Slim. Does it Work? Or Is it just another product that promises to shed bodyweight?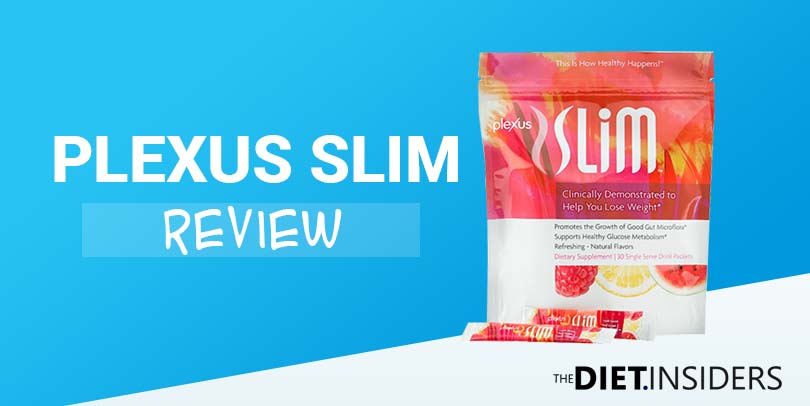 What is Plexus Slim?
Plexus Slim is a drink mix which aims to both helps you lose weight and to balance your digestive system. The manufacturer says that it contains a microbiome activating formula which helps to balance out your digestion. It can also speed up the metabolism, helping you to lose weight.

Who manufactures Plexus Slim?
This product is manufactured by a company called Plexus Worldwide. Plexus is a health and wellness company focused on health science.
They produce products for weight loss, nutrition, and skincare. The products are all completely organic, vegetarian, and gluten-free.

Products Similar To Plexus Slim
What are the ingredients in Plexus Slim?
There are several active ingredients in this product. Some of the primary active substances include:
Green Coffee Bean Extract – This is high in cholinergic acid, which can slow down the glucose being released into your system. It's also high in caffeine, which speeds up the metabolism and puts you into the fat-burning state of thermogenesis. A study in Gastroenterology Research and Practice concluded that green coffee bean is helpful for weight loss.
Chromium Polynicotinate – It has several medicinal benefits, including lowering blood sugar and cholesterol, and for losing weight[2]. A pilot study in the Journal of Alternative and Complimentary Medicine showed that ingestion of chromium did not help weight loss.
Garcinia Cambogia – This is a fruit with medicinal properties, as its high in a substance called hydroxycitric acid. A study in Evidence-Based Complimentary and Alternative Medicine indicated that it's a good weight-loss substance.
How does it work?
The product contains ingredients that help to metabolize fats and carbohydrates. It's also high in caffeine, which increases metabolism. This puts the body into a state called thermogenesis, where it's burning fat rapidly.
This leads to fast weight loss. There's a research study that was in the International Journal of Obesity which clearly showed that thermogenesis can lead to fat burning and weight loss.

What is the dosage?
The recommended dosage is one packet 30-60 minutes before a meal. You can have up to 2 packets a day. To use, mix the packet with 10-12 oz of water, shake, and drink.

Are there any side effects?
It contains caffeine, which can make you jittery and nervous. If you take it in the evening you may have trouble sleeping.
In addition, the product may cause you digestive upset. If you experience uncomfortable side effects, stop taking the product immediately.

What do the product reviews say?
The customer reviews for this product that exist online are all very positive. People actually raved about Plexus Slim and its amazing weight-loss benefits. Users said they lost a lot of weight, and rapidly. Very few users mentioned any side effects.
RELATED – Almased and Xyngular

Frequently Asked Questions (FAQs)
What's the return policy?
The manufacturer has a 60-day money-back guarantee. If you're dissatisfied with the product, contact the company within 60 days of the original purchase date to request your refund. The guarantee can only be used one time per product.
Where can you buy this product?
This product is distributed fairly widely. You can purchase it on the company website, on Amazon, and on several other online retail websites.
How much does it cost?
For a one-time purchase on the manufacturer's website, the price is $89.95. If you subscribe to the auto-shipping program to receive the product every month, the monthly cost is $84.95 for a savings of 5%. You can buy the product on a number of third-party websites for a similar price.
Does it work?
This product does seem to work, yes. There are plenty of testimonials online from happy customers who lost weight using Plexus Slim.
What flavors are available?
You can get this product in lemon, raspberry, and watermelon flavors.
Is there caffeine in the product?
Yes, this product is high in caffeine. This may make you nervous or jittery, and it could disrupt your sleep if you take it late in the day.
What are the dangers of this product?
There are no dangers associated with this product unless you have one of the health conditions which should avoid this product.

Conclusion
Plexus Slim is a weight-loss product that got some very positive reviews online. In fact, almost every review available speaks very highly of this product and its benefits.
Users mentioned losing a lot of weight, and quite quickly. They also said it gave them extra energy, which allowed them to be more active.
Few users mentioned anything regarding side effects. However, there are some mild side effects that are possible. If you experience uncomfortable symptoms, stop taking the product immediately.
You shouldn't begin taking Plexus Slim without getting medical approval from a doctor first.
READ NEXT – Tavala Trim and InstaKetones
Pros
It support glucose metabolism
This product is gluten-free
It is clinically-studied prebiotic
Cons
It contains caffeine that may leads to restlessness and nausea
It may cause you digestive upset
The Diet Insiders Staff
The Diet Insiders Staff
Our team is dedicated to giving you the most trustworthy, unbiased, and accurate information. The Diet Insiders articles are based on scientific evidence and written/reviewed by our team of licensed nutritionists and dietitians.