Methyldrene Review – Does It Work & Is It Safe To Use?
Medically reviewed by a Team of Nutrition Professionals
Does Methyldrene really work or just another weight loss hype? We cover ingredients, pros, cons, potential side effects, and where to buy in our review.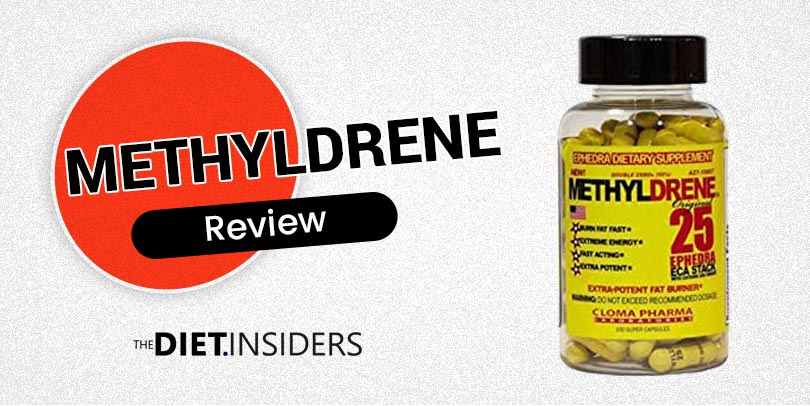 What is Methyldrene?
Methyldrene is a supplement which uses a combination of ingredients that can help you achieve weight loss, according to claims made by the manufacturer.
Methyldrene is manufactured by Cloma Pharma, a well-respected brand that should indicate the type of product that you are getting.
The manufacturer goes on to state that the supplement can help to boost your metabolism, reduce hunger and improve your energy levels to facilitate more productive workouts.
The three main ingredients found in Methyldrene exert synergistic actions on each other and may be able to deliver weight loss beyond what each ingredient can do.

Methyldrene Ingredients and Why it Matters?
Methyldrene contains several ingredients in its formulation which claim to exert synergistic effects when combined. These include:
Caffeine Anhydrous – May help promote weight loss by enhancing the utilization of free fatty acids[1]. Caffeine is also a stimulant and may help improve energy levels.
Ephedra Extract – May help to boost energy levels and promote fatigue resistance which may lead to further weight loss.
White Willow bark (salicylic acid) – Ingredient which may help prolong the action of ephedra and caffeine when consumed together. The combination of the three ingredients is sometimes known as an ECA stack[4].
Panax Ginseng – May help to reduce feelings of fatigue allowing you to work out more intensely. Also said to help reduce the impact of the stress hormone cortisol, which may promote the retention of belly fat.
Cayenne – May help to increase metabolic rate and calorie burning[2]. Cayenne is found in chili peppers and is responsible for its hot sensation.
Hoodia Extract – May help weight loss by reducing hunger, meaning that you consume less calories over the course of the day.
Ginger Root – May help to prevent or reduce nausea that can be caused from other ingredients in the formulation.
Chromium Picolinate – May help to balance blood glucose levels so that hunger and cravings are suppressed[3].
Yohimbine – May help to promote fat loss[5] from areas of the body where it is more difficult to reduce, such as the abdominals and love handles (obliques).
Green Tea – Said to possess antioxidant action to support increased metabolic processes.
Theobromine – Might help to suppress appetite, boost energy and support removal of excess of water weight.
Other major ingredients include: Methylsynephrine, Phenylethylamine, 5-Hydroxytryptophan, Citrus Aurantium, Vitamin B12, and Vitamin B6.

Products Similar To Methyldrene
Methyldrene Review – Does It Really Work?
Based on the ingredient profile of Methyldrene, it may help you to achieve weight loss. It contains several popular weight loss ingredients combined that all claim to address weight loss from different angles.
By helping to reduce your appetite, and then including ingredients which can help to promote energy levels, it may help to overcome the fatigue that can be experienced while dieting.
Other ingredients that can help to promote mood and sense of well-being might also prove useful for keeping you on track with your weight loss plan.

What are the Pros of Methyldrene?
Certain ingredients can help to boost energy levels and overcome the fatigue that accompanies consuming less calories
Might help to improve your metabolic rate so that you burn a little more calories every day
What are the Cons of Methyldrene?
The supplement should not be consumed after 3 PM as the ingredients may interfere with sleep
Methyldrene may interact adversely with certain medications and thus, is contraindicated for some people
RELATED – Belly Trim XP and Best Factor Max

FAQ's
How Much Does Methyldrene Cost?
A: The product retails for $34.99 at the manufacturer's official website.
Q: How Should You Take Methyldrene?
A: The manufacturer of Methyldrene recommends that one pill be taken one or two times daily. They also warn against consuming more than the recommended dose.
Q: Who Should Avoid Taking This Diet Pill?
A: Methyldrene may not be suitable for everyone, especially persons that may have high blood pressure, heart disease or circulation disorders.
The supplement contains a natural aspirin-like ingredient which may cause effects such as stomach ulcers or blood in the stool. If you have experienced issues related to stomach ulcers you should also avoid using Methyldrene.
It is best to always consult your health care professional before consuming any new supplement.
Q: Should You Buy Methyldrene?
A: Methyldrene might help you experience short-term weight loss, but is not the best choice for long-term healthy weight maintenance.
It may also cause unwanted effects such as sleeplessness, so be sure to follow directions exactly as advised if you decide to use it.

Methyldrene Review – The Bottom Line
While Methyldrene may help to promote weight loss, it appears that the risk of experiencing side effects is high, and many people do not notice much weight loss.
The manufacturer of the supplement does not list the possible side effects that a user might experience from consumption on their website, even though there might be several.
It might help to deliver short-term weight loss, but owing to the fact that tolerance develops and the product loses effectiveness, there are other better products available to choose from which deliver long-term results.
READ NEXT – MetaboLife Ultra and Thermaxin
Pros
Contains several ingredients which should work together to increase the potential weight loss
Helps to reduce appetite and cravings that are more likely to occur when dieting
Cons
Tolerance buildup may occur leading to reduced effectiveness of the supplement.
Contains ingredients which might not be suitable for everyone, such as caffeine, or gelatin which the capsule shells are made out of.
The Diet Insiders Staff
The Diet Insiders Staff
Our team is dedicated to giving you the most trustworthy, unbiased, and accurate information. The Diet Insiders articles are based on scientific evidence and written/reviewed by our team of licensed nutritionists and dietitians.