PhenPhast Advanced Reviews – Learn The Truth About It
Medically reviewed by a Team of Nutrition Professionals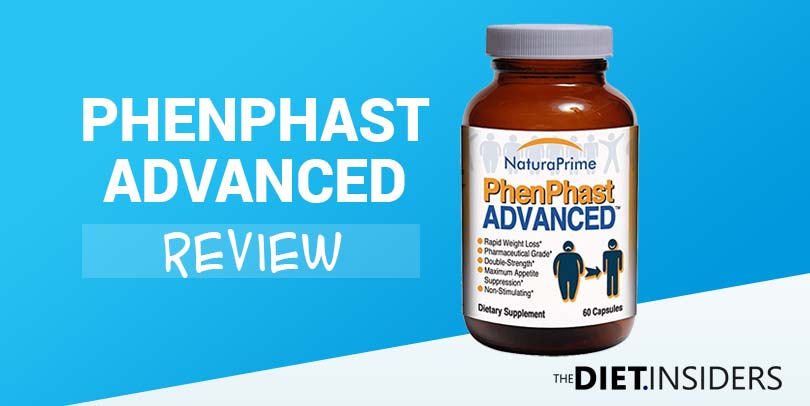 What is PhenPhast Advanced?
PhenPhast Advanced is a dietary supplement that claims to induce rapid weight loss. It claims to be the safer alternative to phentermine, although phentermine works mainly by suppressing the appetite.
The supplement, meanwhile is primarily a fat burner, getting rid of body fats in unwanted areas. It also has some appetite suppression effects, as well as the ability to speed up metabolism and increase energy levels.
PhenPhast Advanced is a product of a company called Natura Prime LLC, and distributed on third-party online retailers. Unfortunately, we can't find any official website for the company nor the product itself.
PhenPhast Advanced Ingredients and Why it Matters?
PhenPhast Advanced consists of a combination of ingredients with known weight loss and general health benefits. These ingredients are:
Amino Acids – Includes L-carnitine, L-ornithine, L-arginine, L-glutamine, tyrosine, tryptophan, and beta-alanine; they work together to promote muscle synthesis which, in turn, speeds up loss of excess fats.
Gamma-Aminobutyric Acid – It is a special amino acid that induces the body to increase its production of growth hormone, which is linked to lower amounts of body fat and lower ratio of fat to lean tissue mass[1].
Hoodia – It is a succulent plant that is said to have the ability to suppress appetite.
Chromium – It may help increase the body's sensitivity to insulin, resulting in lowered blood sugar levels and decreased appetite.
African Mango – It is a popular weight loss aid in alternative medicine, it works to curb appetite, increase metabolic rate, and prevent build up excess fats[2]; it also has some general health benefits such as lowering blood sugar and cholesterol levels.
Grapefruit – No weight loss effects per se, but it is a super nutritious food that provides many health benefits.
Green Tea – Rich in antioxidant compounds called catechin polyphenols (ex. EGCG) which help boost the body's metabolic rate.
Glycyrrhizin Extract – Commonly called licorice; eating it in moderate amounts may help reduce body fat without the risk of adverse effects.
Panax Ginseng – Speeds up metabolism and prevents conversion of excess calories into fat; it also boost energy levels and improve stamina and endurance during workouts.
Gymnema Sylvestre – Has the ability to reduce bad cholesterol levels in the blood; recent studies also suggest that this plant may help block absorption of fats.
Coleus Forskohlii – It is a popular weight loss aid used by overweight and obese individuals in the United States; this plant has no proven weight loss effects, but it is suggested that it may aid in preventing further weight gain.
Astragalus – Added in the formula for its energy-giving properties.
Maca Powder – Used by athletes and bodybuilders, its main benefits include supporting muscle growth, raising energy levels, increasing strength, and improving overall physical performance.
Grapeseed Extract – Aside from its widely-known antioxidant properties, it also aids in weight loss by blocking absorption of fats from food and preventing deposition of excess fats.
PhenPhast Advanced Review – Does It Really Work?
PhenPhast Advanced is being marketed as a weight loss pill, targeting the key areas of weight loss (i.e. burning fat, reducing appetite, speeding up metabolism, boosting energy levels, etc.). However, such claim is not supported even by an explanation from the manufacturer itself, owing to the lack of official website.
What are the Benefits of PhenPhast Advanced?
It claims to promote weight loss.
It may help get rid of stubborn excess fats on unwanted body parts.
It might be able to block fat deposition.
It increases metabolic rate and raises energy levels.
It could suppress appetite and reduce cravings, thus preventing too much calorie consumption.
What are the Drawbacks of PhenPhast Advanced?
It contains too many key ingredients that could weaken the overall dosage of each per serving.
It promises rapid weight loss of one pound per day which it may not fulfill at all.
Its claims of weight loss effects are not explained and confirmed even by the manufacturer itself.
It still requires diet and exercise for best results.
The weight loss effects provided by the supplement may vary among individuals.
FAQ's
How much does PhenPhast Advanced Cost?
PhenPhast Advanced is sold at retailer sites. Each bottle contains 60 capsules. However, the price may vary.
How should you take PhenPhast Advanced?
Two capsules of PhenPhast Advanced must be taken once a day for best results. Ideally, these two capsules must be taken on an empty stomach.
Who should Avoid taking this Diet Pill?
PhenPhast Advanced is free of any synthetic ingredients that may cause unwanted reactions. It is an all-natural formula said to be suitable for healthy individuals who wish to lose excess weight. However, since there are limited information about the product and its manufacturer, we strongly suggest that you consult your health professional first prior to using this product.
Should You Buy PhenPhast Advanced?
If you are interested in trying PhenPhast Advanced, then you will have to do so at your own risk. Although the available reviews for the product are mostly favorable, they seem tainted and biased due to the fact that the seller offers incentives to those who will give positive testimonials for the product. However, we should not overlook the fact that manufacturer made an effort to put some useful weight loss ingredients in the product and that these ingredients work together to target the key aspects of weight loss.
PhenPhast Advanced Review – The Bottom Line
PhenPhast Advanced, based on the information we found and written above, is a decent options when it comes to weight loss supplementation due to a couple good characteristics of the product.
First, it claims to induce weight loss by burning stubborn fats, preventing fat deposition. It also helps speed up the body's metabolic rate, as well as curb appetite and cravings. Lastly, it also provides the energy you need to be motivated and more active in your workouts.
However, there are also some reasons why you should look out for other selections of weight loss supplements. For one, there is no official information and website for both PhenPhast Advanced and its manufacturer, so we can't determine whether or not the product comes from a reputable maker.
Also, compared to most supplements, this one has way too many ingredients. To be fair, many of these ingredients have proven weight loss benefits and it's a good thing, but adding too many of them don't necessarily equate to many benefits. On the contrary, it may lessen the amount or concentration of the ingredients that actually do the work.
To sum it up, there are a lot of other options you can consider when looking for a reliable weight loss supplement. Check out our list of suggestions below and find out if one of them can help you.
Pros
Increases stamina
Manages your weight problems
Cons
Contains caffeine that can cause dependence
The Diet Insiders Staff
The Diet Insiders Staff
Our team is dedicated to giving you the most trustworthy, unbiased, and accurate information. The Diet Insiders articles are based on scientific evidence and written/reviewed by our team of licensed nutritionists and dietitians.