Winnidrol Elite Series Review – Get Facts & Truth About It
Medically reviewed by a Team of Nutrition Professionals
Considering buying a Winnidrol Elite? We tried a few products & provided and in-depth review to help you decide if it's the right product for you.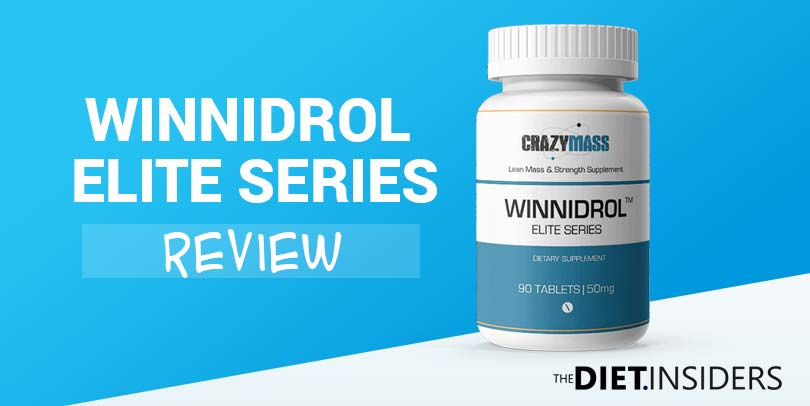 What is Winnidrol Elite Series?
Winnidrol Elite Series is an anabolic supplement that claims to safely and effectively increase energy levels and promote faster growth of leaner, stronger muscle mass.
It is a steroid-free formula that is said to mimic the effects of the anabolic steroid known as Winstrol.
It claims to provide benefits without the serious side effects associated with Winstrol, or any other steroids for that matter. Regular use of this supplement may help achieve one's fitness goals faster and safer.
This supplement is a product of Crazy Mass, a company known for its anabolic supplements and other products that help improve fitness. Their products are mostly known for their ability to aid in workout programs.

Winnidrol Elite Series Ingredients and Why They Matter?
Winnidrol Elite Series has an all-natural proprietary formula that was not disclosed in the manufacturer's official website.
However, according to some reliable sources, the formula consists of the following key ingredients:
Dimethylaminoethanol (DMAE) – A precursor of choline and acetylcholine, this compound has been demonstrated to prevent degradation of cell membranes, particularly of the cells of the nervous system; its main functions include enhancing cognitive abilities[1] and raising energy levels.
Wild Yam Root Extract – Rich in diosgenin, a chemical compound which can be converted into steroids like estrogen and dehydroepiandrosterone (DHEA); some of its known benefits include increased energy levels, improved athletic performance, relief of inflammatory diseases, and enhanced fertility.
Oleic and Linoleic Acid – Two structurally different omega fatty acids that serve the same function – improving cell function, lowering cholesterol levels, and reducing the risk for heart diseases.
L-Carnitine – A popular ingredient in many weight loss products, owing to its ability to promote the burning of excess fats and increase energy production; other important functions of this amino acid include preventing brain disorders, improving heart function, and boosting male fertility.[2]
Choline Bitartrate – Naturally produced by the body to alleviate conditions such as depression, memory loss, liver problems, and some types of seizures; its workout-related benefits include boosting energy levels and delaying fatigue for a more effective endurance training.
Similar Products
Winnidrol Elite Series Review – Does It Really Work?
Winnidrol Elite Series promises benefits that one would look for in bodybuilding supplements.
Among its most important benefits are inducing muscle growth and increasing energy levels.
While the number of testimonies for the supplement is limited, the available ones show mixed reviews. Some say that the product works, while the others claim it didn't work at all.

What are the Advantages of Winnidrol Elite Series?
It may help get rid of excess fat and water to make the muscles more dense and defined.
It may offer a safer yet equally-effective alternative to steroid-based supplements.
What are the Disadvantages of Winnidrol Elite Series?
The promised benefits are too many and the product may not fulfill all of them.
It requires months before any noticeable results are seen or felt.
SEE ALSO – MesoFX Review

FAQ's
How much does Winnidrol Elite Series cost?
According to the official website, a bottle of Winnidrol Elite Series costs $95 for a bottle of 90 capsules. At present, it is being sold at a discounted price of $66.99 which is still more expensive than most supplements. The product comes with a manufacturer's guarantee valid for 14-days.
How should you take Winnidrol Elite Series?
One tablet of Winnidrol Elite Series must be taken twice a day on both workout and non-workout days. During workout days, one of the tablets must be taken about 30 to 45 minutes prior to workout. The manufacturer recommends taking the supplement for at least two months, following two months "on" and two weeks "off" cycle.
Who should avoid taking this diet pill?
Compared to Winnidrol and other steroid supplements, its manufacturer claims that Winnidrol Elite Series is safe to use by anyone who wishes to reap its benefits.
Should You Buy Winnidrol Elite Series?
Winnidrol Elite Series has all information about it, which would make interested individuals about trying it. However, it could be worth a try given the reputation of the manufacturer as a producer of health and fitness supplements.

Winnidrol Elite Series – The Bottom Line
Winnidrol Elite Series markets itself as a safer option to anabolic steroids. Given the list of ingredients, albeit unverified, it is easy to assume why the product can provide its promised benefits.
Add to that the reputation of the manufacturer as a reliable supplements producer.
But as with any other supplements, this formula also has its fair share of downsides. For one, the official website did not disclose the specific components of the product.
Another is the limited amount of customer reviews that can attest to the effectiveness. Lastly, it appears that Winnidrol Elite Series is much pricier compared to other brands.
Overall, if you are looking to improve your workout performance but are hesitant of trying steroid-based supplements, you can consider products like Winnidrol Elite Series.
Other than this specific brand, we also suggest that you check out other similar yet much cheaper options below.
Pros
It may boost energy levels, speed, agility, and physical strength
It may improve blood circulation throughout the body
Cons
It produces varying results among individuals
It is not approved by FDA yet
Its supply is not extended to retail market
The Diet Insiders Staff
The Diet Insiders Staff
Our team is dedicated to giving you the most trustworthy, unbiased, and accurate information. The Diet Insiders articles are based on scientific evidence and written/reviewed by our team of licensed nutritionists and dietitians.