MetaboUp Plus Reviews – Learn The Truth About MetaboUp Plus
Medically reviewed by a Team of Nutrition Professionals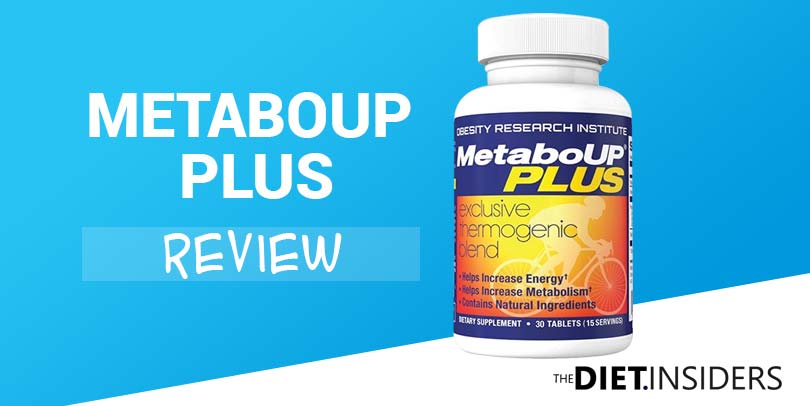 What is MetaboUp Plus?
MetaboUp Plus is a thermogenic weight loss supplement that is delivered in the form of tablets that you need to take every day for optimal results. The product focuses on stimulating thermogenesis, which increases production of heat in your body and that may lead to losing weight through calorie burning. The product can also help you to increase energy levels and improve mental focus.
When it comes to manufacturer information, MetaboUp Plus is manufactured by Obesity Research Institute. The company is situated in Carlsbad, California, and you might have heard of their other weight loss supplement Lipozene. The manufacturer has a nice-looking website with the telephone contact information listed if you want to place an order.
MetaboUp Plus Ingredients and Why it Matters?
MetaboUp Plus lists all the supplement facts on the label and here is what ingredients you can find:
Vitamin B6 – Found in this product in the form of pyridoxine, this vitamin can help to inhibit your body from storing fats, but stimulate it to burn them instead
Vitamin B12 – This component is known for its potential to act as an energy booster
Green Tea Leaf Extract – Used by many manufacturers in their weight loss supplements, this ingredient can act as an appetite suppressant and may also boost your metabolism by promoting thermogenesis
Guarana seed extract – This compound contains 22% of caffeine, which means that it can boost both your metabolism and your mood
Caffeine – Although it is not in its purest form (not anhydrous), it still can be a potent thermogenic that may stimulate fat burning properties of your body
Oolong Tea Leaf – Although it doesn't mention the exact amount, this component also contains caffeine. It can also play a role in maintaining optimal weight thanks to the presence of theaflavin and thearubigin
Kola Nut Extract – Another ingredient that offers caffeine, which is in this case 10% of the extract. Thanks to that, it can boost your mental focus and energy
Cayenne – It also plays a role in trimming fat and burning calories
Platycodon Root extract – This flowering plant has considerable antioxidant properties and can regulate your cholesterol and blood sugar levels
MetaboUp Plus Review – Does it Really Work?
If you take a look at the ingredients' list of MetaboUp Plus, you will notice that it is a mixture of herbal-based ingredients and vitamins. Several plant-based components contain caffeine, which plays an integral role in the working process of the supplement.
Thanks to its thermogenic properties, it can stimulate your organism to break down fats and use them as fuel for exercises and other activities. At the same time, the manufacturer claims that the product doesn't allow your body to store fats, but helps it to instantly use them as energy.
Aside from acting as a fat burner, MetaboUp Plus can also curb your appetite, while the vitamins might enhance your levels of energy. For optimal results, you should combine this product with Lipozene, a popular weight loss supplement produced by the same manufacturer.
What are the Benefits of MetaboUp Plus?
Can help to increase your energy
Might improve your clarity and alertness
What are the Drawbacks of MetaboUp Plus?
There might be no visible results without combining it with Lipozene
Contains regular caffeine, which is less effective than caffeine anhydrous
FAQ's
How Much Does MetaboUp Plus Cost?
You can buy MetaboUp Plus in online stores for the price of $14.15. However, you should know about the deal on the official website of Lipozene. This is a supplement that is manufactured by the same company and it is recommended to combine the two for optimal results. If you purchase a trial package of Lipozene for $29.95, you will also get a bottle of MetaboUp Plus for free.
How Should You Take MetaboUp Plus?
The manufacturer indicates that you should take two tablets once during the day. There is no specified time when you need to do it, but due to the presence of caffeine, we advise not to take it within several hours of your bedtime.
Who Should Avoid Taking This Diet Pill?
We all know about standard precautions for this supplement, but the presence of stimulants also doesn't make it suitable for anyone who has a known history of heart disease, problems with high blood pressure, diabetes, or depression.
Should You Buy MetaboUp Plus?
In situations like these, we always like to consult the opinion of existing users. According to the reviews, we read online, the feedback on MetaboUp Plus is mixed. There were users that were amazed at the product, particularly emphasizing its ability to curb appetite.
Some of them emphasized that they didn't even visit the gym regularly and still noticed an improvement. However, other customers were harsh on the supplement and revealed that it didn't work at all, while some of them mentioned that they needed to mix it with Lipozene to see some effects.
MetaboUp Plus Review – The Bottom Line
It doesn't surprise us that MetaboUp Plus has its advantages and drawbacks just like any other supplement. This product relies on thermogenesis for helping you in the weight loss process and several ingredients work to help your body's heat production and burn fat.
If you are willing to give the product a shot, you may notice some improvements in terms of energy and mental focus, but keep in mind that the results might not be visible if you do not combine it with another product from the same company.
Pros
A combination of herbal-based ingredients and vitamins.
May boost thermogenesis to help your body burn fat.
Cons
May lead to sleeplessness if taken within a couple hours of bedtime.
Result vary from person to person.
The Diet Insiders Staff
The Diet Insiders Staff
Our team is dedicated to giving you the most trustworthy, unbiased, and accurate information. The Diet Insiders articles are based on scientific evidence and written/reviewed by our team of licensed nutritionists and dietitians.