Zeal for Life Review – Is It Safe & Good For You?
Medically reviewed by a Team of Nutrition Professionals
Is Zeal For Life a comprehensive weight loss solution? Our detail review gives you the bottom line on this health supplement.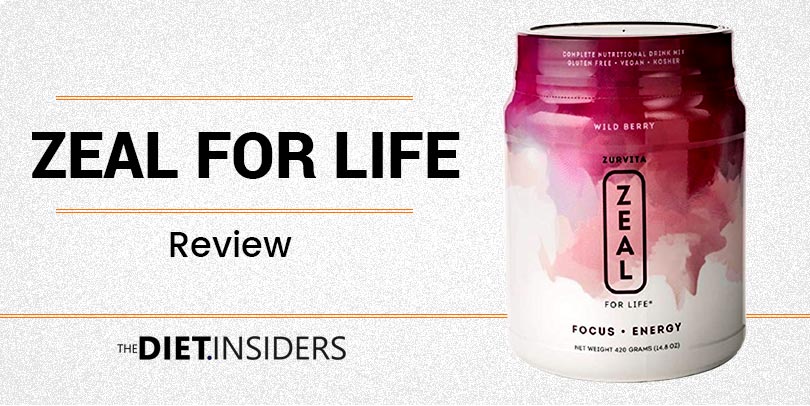 What is Zeal for Life?
Zeal for Life is a health drink that contains a concentrated amount of more than 40 superfoods. It comes in the form of a powder and is available in a number of flavors like wild berry and watermelon.
It's incredibly rich in nutrients, vitamins, minerals, and anti-oxidants. The product is designed to lead to optimal health, enhance your energy level, and improve your mood. There are other stated benefits of this product, including an increase in mental focus and an improvement in mood.
Who manufactures Zeal for Life?
Zeal for Life is manufactured by Zurvita, which was founded in 2104 by Mark and Tracy Jarvis. This is a health and wellness company that produces products to enhance the well-being of users. They are committed to producing organic products that are at the highest level of quality.
Products Similar To Zeal for Life
What are the ingredients in Zeal for Life?
This product is made up of 42 superfoods which are very rich in anti-oxidants.
Some of these active ingredients include:
Aloe Vera – It's a plant which is anti-microbial, meaning it kills bacteria and viruses. It's also an anti-inflammatory which can bring down swelling. According to the National Center for Complimentary and Integrative Health, it can have carcinogenic properties when ingested orally.
Turmeric – It's a plant in the ginger family. It contains bioactive compounds called curcuminoids, the most important being curcumin. Turmeric has numerous medicinal benefits, as well as anti-inflammatory and anti-oxidant properties. In addition, it speeds up the body's ability to make and use anti-oxidants. Research in Biofactors found that it can help obese people lose weight.
Guarana Seed – This plant is a powerful stimulant which includes caffeine, theophylline, and theobromine. It speeds up the body's metabolism, which can lead to fat burning. Research in the International Journal of Obesity-Related Metabolic Disorders found that it does lead to weight loss.
How does it work?
The drink contains 42 superfoods which are very rich in anti-oxidants, which greatly enhance the immune system and lead to more rapid healing. The product is also high in vitamins, minerals, and nutrients.
It also provides you with an abundance of additional energy and can improve brain health. Research in the Journal of Clinical Pathology showed that anti-oxidants can rid the body of damaging free radicals, leading to healing.
What is the dosage?
The recommended dosage is one scoop of the drink mix in a full glass of water, once a day. Stir the mixture and drink it.
Are there any side effects?
There are some side effects associated with this product including increased blood pressure, diarrhea, constipation, dizziness, heart palpitations, jitters, anxiety, insomnia and stomach discomfort.
What do the product reviews say?
The majority of the reviews for this product were really good, for the most part. Customers mentioned increased energy and improved memory and mental focus. Users with illnesses like arthritis and migraines said Zeal for Life helped heal their bodies – people with illnesses.
There were a few negative reviews, although they weren't overly numerous. A few people complained that the product has a bad taste. Others said it was expensive. Users also mentioned that it didn't lead to weight loss.
What are the benefits of this product?
This product is very high in nutrients, vitamins, and minerals.
Zeal for Life can enhance your energy level.
It contains over 40 healthy superfoods.
Zeal for Life is high in immunity-building anti-oxidants.
The drink can enhance your moods.
Frequently Asked Questions (FAQs)
What's the return policy?
According to some customers, the company has a 30-day return policy. However, there's no mention of any such policy on the manufacturer's website. If you purchase this product from a third-party retailer, you'll be covered under their policy.
Where can you buy this product?
You can purchase Zeal for Life on the manufacturer's official website, as well as on Amazon and eBay. You may also find it on other third party websites.
How much does it cost?
You can buy this product on the official company website, or on several third-party websites. The prices on the manufacturer's website are as follows:
Zeal 24 (24 single-serving bottles) – $104.95
Zeal Canister – $54.95
Zeal + box (10 packets) – $29.95
Zeal + Canister – $79.95
Is this product safe?
This product is made of organic ingredients and is fairly safe. However, some users have experienced heart palpitations and/or increased blood pressure.
Does this product work?
There are a few bad reviews, but for the most part, users have loved this product. Customers with ailments like arthritis and migraines have stated that this drink really improved their symptoms. Users mentioned increased energy and an overall feeling of well-being.
Conclusion
Zeal for Life is a popular, well-liked product among customers. Users with illnesses like Crone's Disease suggested that the product was very healing for their bodies. Other users mentioned increased mental focus and memory, even amongst users with some dementia. Many customers raved about the increase in energy they experience with Zeal for Life.
The taste of the product wasn't well-liked, although of course it depended on the flavor selected. One point mentioned several times is that there really are no weight-loss benefits to the drink. Some customers thought this product was expensive.
There weren't any complaints about side effects, but that doesn't mean you won't experience any. If you do, stop taking the product immediately.
Before taking this product, check the ingredients carefully to make sure there's nothing you can't have. It's also very important that you get medical approval from a doctor before taking this product.
Pros
It can provide you with mental focus.
This product can improve your general health.
Cons
May cause nausea, stomach discomfort and headaches.
The Diet Insiders Staff
The Diet Insiders Staff
Our team is dedicated to giving you the most trustworthy, unbiased, and accurate information. The Diet Insiders articles are based on scientific evidence and written/reviewed by our team of licensed nutritionists and dietitians.