Pro Ripped MAX Review – Learn The Truth About 1UP Pro Ripped MAX
Medically reviewed by a Team of Nutrition Professionals
Is Pro Ripped MAX the best weight loss pill for you? We cover ingredients, pros, cons, and how it works in our review.
What Is Pro Ripped MAX?
Pro Ripped MAX claims to have a premium formula that will support your weight loss regime and promote fat burning. This is a dietary supplement intended for those that want to get rid of their extra pounds quickly.
In its essence, it is a thermogenic product that can accelerate metabolism, but the potential benefits also include enhanced energy levels, appetite suppressing, and improved mental performance.
Pro Ripped MAX is delivered in the form of capsules and targets fitness enthusiasts willing to hit the gym regularly.
The product is manufactured by 1UP Nutrition, which claims to follow all guidelines and comply with regulations required to deliver high-quality health supplements.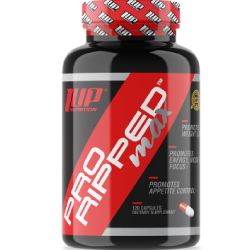 Pro Ripped MAX Ingredients and Why It Matters?
In this section, we will take a look at the compounds included in Pro Ripped MAX and why they are important. Here are some of the active components:
Caffeine blend – In this supplement, you can find a mix of caffeine citrate, caffeine anhydrous, and di-caffeine malate. They all participate in delivering the potential benefits of caffeine, including boosted metabolism and stimulated fat burning. It may also be useful for those hitting the gym regularly as it can boost the power output[1]
Theobromine – This compound is a natural stimulant and it can boost heart and brain function. If combined with caffeine, it can also have a positive effect on your mood and motivation[2]
Rauwolfia Vomitoria extract – It may have a beneficial effect while you are working out as it can boost blood circulation to the muscles. Aside from that, it might help to prevent fat storage and, therefore, weight gain
L-Theanine – It can act as a stress and anxiety reliever and potentially improve your attention span
Higenamine HC1 – This compound has the potential of boosting thermogenesis and might even increase energy levels
Hordenine HC 1 – it can be found in bitter orange, barley and even beer brewed from this compound. It may boost energy and alertness, especially if combined with some other components[3]
Other ingredients include white willow bark extract, Eria Jarensis extract, N-Acetyl L-Tyrosine, vitamins B6 and B12, N-Methyl-Tyramine HC1, Lean GBB, paradoxical, and chromium. The inactive compounds are red 40, vegetable magnesium stearate, microcrystalline cellulose, silicon dioxide, di-calcium phosphate, and gelatin.
Similar Products
Pro Ripped MAX Review – Does It Really Work?
Let's talk a bit about the working process of Pro Ripped MAX. This product is primarily intended for those that are working out on a regular basis.
It can boost your metabolism and accelerate fat and weight loss, but it may also enhance energy and motivation, which might improve your exercise performance and get you one step closer to a lean and toned body.
When it comes to how Pro Ripped MAX works, it all comes down to thermogenesis. This involves getting your body into over-heating mode, which stimulates using existing fat stores and converting them into fuel.
The manufacturer also claims that the product may act as an appetite suppressant and even promote your mood.

What are the Pros of Pro Ripped MAX?
Users may feel like they are in a better control of their appetite
The product can boost mental performance and reduce stress and anxiety
What are the Cons of Pro Ripped MAX?
Users need to make sure to use the product in cycles
The instructions indicate that you should avoid beverages containing caffeine while taking the supplement
You are required to start slowly and increase the dosage gradually until you find the right amount for yourself
SEE ALSO – Oxy Lean Elite and Apidren

FAQ's
How Much Does Pro Ripped MAX Cost?
There is only one option for purchasing Pro Ripped MAX that is available on the official website. It involves buying a single bottle (30-day supply) for the price of $49.49.
How Should You Take Pro Ripped MAX?
Just like with other supplements that contain caffeine, you want to start slowly and gradually increase the dosage. Begin with a single pill before breakfast and the second one approximately six hours after that. If you feel like you can increase the amount, double both dosages to two capsules.
Keep in mind that four pills per day are the maximum recommended amount. Also, you shouldn't take Pro Ripped MAX for more than eight weeks before making a pause of several weeks.
Who Should Avoid Taking This Diet Pill?
Additional caffeine intake is not advised while taking this product, which means that you are expected not to drink coffee, tea, or other beverages containing it. You are also expected to apply standard precautions, which means that minors and breastfeeding and pregnant females should not take Pro Ripped MAX.
Should You Buy Pro Ripped MAX?
The natural stimulants included in the Pro Ripped MAX formula may deliver noticeable results in a matter of days or weeks. However, their very inclusion might be something that may repel you from taking the supplement. Ultimately, it depends on what kind of a fat burner and weight loss product are you looking for and that is what should be a decisive factor in determining whether to buy this supplement.

Pro Ripped MAX Review – The Bottom Line
Pro Ripped MAX contains several ingredients that may promote thermogenesis, which goes in favor of the claim that thermogenic properties are used to support fat burning and weight loss.
However, the inclusion of caffeine means that you shouldn't take other beverages with this ingredient, which may be a downside for coffee lovers.
The product aims to help regular gym visitors not only to lose weight but also to boost athletic performance and athletic results. On the other hand, you will need to find the right dosage yourself and ensure to make occasional pauses when taking the product.
Overall, Pro Ripped MAX may be useful as an energy booster and fat burner, but it may have restricted effectiveness if you are tolerant to caffeine. You should make sure to analyze the market carefully and find the right product for you, whether it is this one or an alternative choice.
READ NEXT – Rapid Tone and Radiantly Slim
Pros
The product may be effective in inducing thermogenesis, which may lead to fat loss
Some ingredients improve athletic performance by boosting blood flow to your muscles.
Cons
Some users do not like supplements that utilize stimulants
The product should not be used for more than eight weeks
The Diet Insiders Staff
The Diet Insiders Staff
Our team is dedicated to giving you the most trustworthy, unbiased, and accurate information. The Diet Insiders articles are based on scientific evidence and written/reviewed by our team of licensed nutritionists and dietitians.