What is Zylotrim?
It is a product prepared by a company known as the Obesity Research Institute, LLC. This company also manufactures numerous other weight reduction, over-the-counter products, but is not well known in the business. One investigation showed that they received an FTC fine for deceiving the public about a product's ability to promote weight loss (it's not clear which products, however), and have had many complaints lodged against them at the Better Business Bureau.
Zylotrim falls squarely into the "As Seen on TV" category, which is seen by some consumers as a sign of tackiness. The website has an audio/video advertisement that claims it was awarded the title "#1 active ingredient for weight loss" in 2007 by "Functional Foods and Nutraceuticals" magazine, and also guarantees that for each pound lost, 80% of that weight is body fat.
Zylotrim Ingredients and Why it Matters?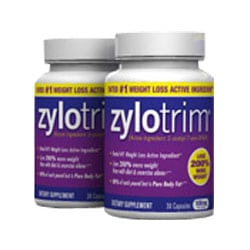 Information about the ingredients in this supplement is scarce, with little information on the manufacturer's website or any other dieting site.
What we do know is that it contains a natural yam-based compound, but the manufacturer fails to mention whether this is the sole ingredient, how much of it is contained in a dose, or what the therapeutic effect is.
There is one vague report that claims it will enhance the efficiency of the fat burning enzymes, but that's it. Strangely, the website describes a new product, Metabo Up, but there is no indication of it elsewhere on the website.
What are the Pros of Zylotrim?
It is simple to use; 2 pills twice daily with water.
If you are not satisfied within 30 days, you can ask for your money back.
What are the Cons of Zylotrim?
The company that manufactures Zylotrim has a poor reputation, having been fined by the FTC.
The ingredients are not explained at all.
No independent websites carry reviews on Zylotrim.
Zylotrim Review – The Bottom Line
It is very uncertain that, seen on television or not, a rational customer would wish to pay for a relatively unknown product like Zylotrim, particularly if other reliable options are available in the market. It is somewhat unique to include yams in the formula, though there is no evidence presented to support the dubious claims made on Zylotrim's website.
Too sum it up, the claims made by the company that sells this product are far too unsubstantiated to be taken seriously. If you want lasting weight loss, you probably want to purchase another inexpensive product, one that can curb appetite, burn fat, and boost metabolism. This product is a rejection.