Reading Time:
2
minutes
Xenadrine RFA Overview
Xenadrine RFA is a weight loss formula manufactured by Cytogenix Laboratories, a company that also produces two muscle growth enhancers and Xenadrine RZR-X. The product is designed to help the body burn fat and calories, and can supposedly also increase metabolism.
There was no product website at the time this review was written. The original formulation of Xenadrine RFA was removed from the market because it contained ephedrine. Several sources stated that the company released an ephedrine-free version, but finding a bottle available for purchase still proved to be a challenge.
One of the sites visited cited a clinical study comparing the weight loss results between a group given Xenadrine RFA and one given a placebo. The Xenadrine RFA group lost over five times as much fat and more than seven times as much weight as the placebo group.
What is Xenadrine RFA?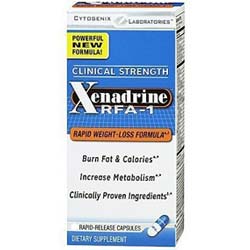 In addition to vitamin B6, folic acid, and other nutrients, Xenadrine RFA contains three proprietary blends: Lipo-Core, Thermodyne Complex, and Cytodrine. Some of the more important extracts in these are green tea extract, caffeine, guarana, and garcinia cambogia.
What are the Pros of Xenadrine RFA?
It may help to burn fat.
It may increase metabolism.
The new version of the product does not contain ephedrine.
The manufacturer is an established company.
Xenadrine RFA is designed for rapid weight loss.
What are the Cons of Xenadrine RFA?
The supplement contains caffeine.
Xenadrine RFA is very hard to find.
There is no official website for the product.
The product is not suitable for those with certain health conditions.
Xenadrine RFA Review – The Bottom Line
The new, ephedrine-free version of Xenadrine RFA contains many natural extracts as well as a large dose of caffeine. Finding the product is quite difficult, so individuals might want to look for one with similar ingredients that is available from a larger number of online retailers.