What is System Six?
Before, weight loss supplements were simply supposed to help you lose weight. Some supplements targeted bloating and gas while some prevented fat from accumulating inside the body.
Nowadays, the weight loss market has blossomed into a lot of do-it-all weight loss product and System Six is no exception.
System six tries to help users by helping to lose weight, boost mood, and enhance energy levels. Irwin Naturals System Six is popular to a lot of users all over the world because of its positive claims.
System Six Ingredients and Why it Matters?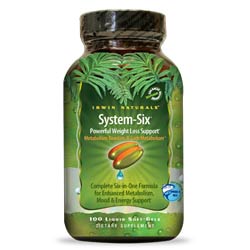 System six contains a lot of ingredients for a simple diet pill. And this potent combination of ingredients delivers a powerful weight loss punch.
Xenedrol
Yerba Mate
Guarana
5-HTP
Betaine Riboflavin
Vitamin C, E, B12
Chromium Picolinate
Garcinia cambogia extract
Cayenne ginger root
L-Carnitine
These are some of the key ingredients included in its formulation.
What are the Pros of System Six?
For a lot of people suffering from excess baggage, the pressure to lose weight (from friends, family, and doctors) could get overwhelming and turn into depression.
Depressed people rarely like to exercise and tend to consume more mood enhancing junk food like sugar-laden chocolate bars and salty potato chips.
With System Six, you need not indulge yourself to these kinds of fatty foods as this weight loss promises product promises to enhance mood by upping the caffeine level and by adding Rhodiola and Chromium.
These ingredients are a potent mix and will give a lot of energy for you to feel great and actually have enough energy to exercise.
What are the Cons of System Six?
Like with any other weight loss product in the market, System Six also has disadvantages, some users claim that System Six has worked in the beginning, but its effectiveness decreases after long usage.
This is when the body gets used to the caffeine. In addition, some claims that the depression and anxiety feeling was just replaced of anger and irritability.
System Six Review – The Bottom Line
To conclude: Does System Six Work? Yes it does!
However, this diet product is not a magic fat eraser. Even if you take the pills, you still have to follow a low fat, low carbohydrate, and high protein diet.
Add to that an adequate amount of exercise. For people who love their coffee, this is not the product for you. The manufacturers themselves do not advocate this product if you love you coffee, chocolate, or your soda.
The pill already has a lot of caffeine content so adding other forms of caffeine could increase your risk for stomach acidity, mood swings, insomnia, and, irritability. There are a lot of benefits to be had from this product; however, there are a lot of negative effects as well.