Hot Rox Overview
The Biotest company manufactures Hot Rox, and they have the audacity to say that Ephedra is now 'obsolete' because of them. Ephedra is an herb that grew in popularity for excellent fat reduction, but it was prohibited because it is harmful and occasionally has deadly side effects.
Even though products with Ephedra can still be purchased from some manufacturers, a lot of people have been looking for a substitute product since then. The Hot Rox website is an extremely bold image with only red and black illustrations, almost like various websites that are targeted to body building customers.
The design is easy to understand and nearly all of the details only take up one page. Disappointingly, there isn't anything else that is easy to understand on this website; the description of the product and the origin of its creation is very long, scientific and complex.
It is very unlikely that most people would spend enough time to look at all of it, and it would certainly be too much to deal with all of the information if they read it. The website has important information about what to eat (they recommend the Atkins' diet, which has a lot of protein and a little amount of carbohydrates) and emphasize that it is very important to exercise regularly. Also, this appears to be aimed specifically to people who are involved in body building instead of the average customer.
Hot Rox: Facts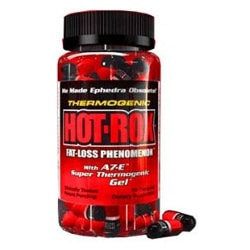 Most of the details concerning Hot Rox is included in the long article that was previously mentioned. The most important thing to know about how Hot Rox works is that it speeds up lipolysis, limits fat production, and sustains lean muscle development.
Many body builders are not as worried about losing weight as they are about developing bulk, having more endurance, and obtaining a 'sculpted' body. The substances in Hot Rox are complex, but they are revealed on the label of the product.
All of these are included in the Hot Rox proprietary blend and consist of chemicals that are unknown to most people — like lauroyl macrogol-32 glycerides and p-methylcarbonyle-thylphenol. Each of the capsules has a specific potency of caffeine in addition to several food colors.
The suggested dose for Hot Rox is a minimum of one to a maximum of three capsules before the morning meal, and a repeat of the exact dose about six hours after this. Customers are advised to only take one capsule twice a day to see how it effects them because Hot Rox is quite powerful.
Hot Rox: Positive Features
Detailed diet and exercise plans provided on website
The product sustains the metabolism throughout the day
No Ephedra is contained in this product
The product is available at independent retail stores
Hot Rox: Negative Features
Pricing varies depending on the retailer
Some negative reviews from independent consumers
Hot Rox is aimed more towards a body building consumer
The ingredients may be too potent for some consumers
Hot Rox: Conclusion
It is a shame the website is complicated and hard to understand because they seem genuine in providing their customers with a good product. It should be mentioned that a consumer should purchase Hot Rox from other retailers instead of directly from the company due to its price (i.e. $49.99 as opposed to $29.99).