What is Dexatrim?
Anyone who knows anything about diets and weight control pills is probably familiar with Dexatrim.
Even though the current formula differs from the original, some refer to this product as a 'veteran' of the industry because it has been in existence for more than 25 years.
Dexatrim formerly contained Ephedrine and when it was discovered that this ingredient was dangerous, Dexatrim and all other products that contained Ephedrine were recalled and banned.
Many lawsuits involving the Ephedrine ingredient were filed against the manufacturer of Dexatrim, but the product's formula has been changed and Dexatrim is available again.
The website for Dexatrim is very informative and pleasing to the eye. There are several types of Dexatrim — including daytime control, nighttime control, natural formula and effervescent tablets.
Each type is designed to help curb cravings and control the appetite; and most of them contain mostly the same ingredients. An FAQ section that is fairly helpful is featured on the official website along with a 'Healthy Living Center,' which provides links to other health and diet-related websites.
Dexatrim commercials include video presentations, and while the website lacks testimonials, it does provide links to the MySpace Dexatrim community and the Dexatrim 'Challenge' on YouTube.
Dexatrim Ingredients and Why it Matters?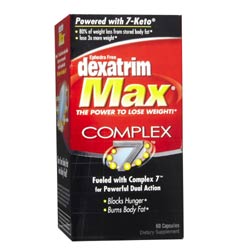 A proprietary blend of ingredients is used in Dexatrim Max daytime appetite control including green tea, oolong tea, ginseng, chromium, vitamins B6 and 12, niacin and riboflavin.
The dosage recommendation is 2 capsules per day, one in the a.m. and one in the p.m. The Dexatrim label cautions that users might experience short-term side effects such as upset stomach, due to the high vitamin content; however this can be avoided by taking it with food.
The majority of the ingredients provide a boost in energy and metabolism; chromium helps to regulate blood sugar levels and that, in turn, helps curb cravings for sugar.
Formerly this product contained Ephedrine which was found to increase the incidence of strokes and resulted in the banning of that ingredient. But even today you can find warnings on the label regarding the danger of overuse.
It is odd that Hoodia Gordonii is not an ingredient in this product that is supposed to suppress the appetite; in fact, none of the ingredients have that effect.
What are the Pros of Dexatrim?
Dexatrim has been a recognizable weight loss product for a long time.
There have been no legal complaints filed against the company since it was reformulated.
The company website has a savings coupon.
The website contains links to other sites dealing with health.
The product doesn't cost very much; the price on average is about $15.00-$17.00 depending on where you purchase it.
It is easy to follow the dosage instructions.
What are the Cons of Dexatrim?
Even though Dexatrim has been reformulated, it is still linked to the Ephedrine scare.
Ingredient quantities present in the proprietary blend are not specified on the website.
The ingredients contained in Dexatrim are not fully disclosed.
It rates poorly on all of the independent diet pill lists.
The website doesn't have anything about a money back guarantee.
The pills may result in short-term but uncomfortable side effects
Dexatrim Review – The Bottom Line
It's too bad that people will most likely associate Dexatrim with Ephedrine for the foreseeable future, because the revised formulation is all natural and safe as long as the directions are adhered to.
This product should only be used in combination with exercise and proper nutrition as there are no ingredients that have produced strong weight loss results, like Hoodia. This product is excellent for those who want a fairly economical way to speed up their metabolism just a bit and eliminate cravings and snacking.